14.01.17
Самый титулованный фигурист современной истории, обладатель 4 Олимпийских наград - Евгений Плющенко по многочисленным просьбам впервые проводит месяц обучающих мастер-классов для начинающих спортсменов, профессионалов, а также для тех, кто хочет быстро научиться хорошо кататься на льду! Занятия проводятся как в группах, так и индивидуально только в период с 15 Января по 10 Февраля 2017. Количество мест ограничено! Информация и запись по телефону +7 915 460-58-83 или почте Eolissova@mail.ru Занятия проводятся на индивидуально забронированном льду в современном новом комплексе ! По окончанию обучения вручается диплом о прохождении спортивной подготовки !
The most titled skater of the modern history, winner of 4 Olympic medals - Evgeni Plushenko due to the numerous requests for the first time will hold a one-month course of educational master-classes for beginners, professionals as well as for those who want to learn quickly how to skate well on ice! Classes are held in groups and individually during the period from the 15th of January till the 10th of February 2017. Number of participants is limited! Information and registration by phone + 7 926 578 67 40 or e-mail marina@evgeni-plushenko.com Classes are held on the individually booked ice rink in the entertainment complex. At the end the participant will get the certificate of completing sports training course.
13.01.17
"Nutcracker" Shows are created on the fairy tale "The Nutcracker and the Mouse King" by the German Romantic writer Ernst Theodor Amadeus Hoffmann at the Pyotr Ilyich Tchaikovsky.

EUGENE Plushenko with his international team prepared this incredible show which promises the audience to see not only the best skaters, ice acrobats, but also to surprise the luxurious costumes, the wonders of video.

More :
Nutcracker - Moscow 23-30.12.2016
Nutcracker- St.P.burg 02-07.01.2017

http://www.nutcracker.ru/
10.12.16
King on Ice tour ~~~the professionalism of the participants, the most beautiful musical accompaniment, as well as special lighting and sound equipments. The audience welcomed the skaters and gave long standing ovation !

Surrounding the show, see the calendar. Reports, photos, videos, interviews with the show, visit our forum:
Riga, Latvia & Tallinn, Estonia 4/5.11.2016
Bratislava, Slovakia, 29.11.2016
Ostrava, Czech Republic 30. 11. 2016
(Kings on ice) Словакия 1-3.12.2016
Cluj-Napoca, Romania 9.12.2016
25.11.16
https://twitter.com/EvgeniPlushenko/status/801715149195399168
What a pity that such people go away! @cekoni I will always remember your love & attitude to what you considered the pursuit of your life!....How devotedly was you engaged in my site and @plushenkonews. Rest in peace!
Bright and unforgettable memories in our life !Miss you so much ! God bless you ! May you all the best in the heaven!




10.11.16
Unfortunately, due to
reasons that are not
depended
of Evgeni, "Kings on Ice" show in Bucharest (
scheduled
for 16.11.2016) was postponed to 08.04.2017!

More information

Please, check
Calendar
for
a latest
added shows!
03.11.16
Today Evgeni Plushenko turned 34 years of age.
We sincerely congratulate our favorite figure skater and wish him good health, happiness and all the best in his future endeavors!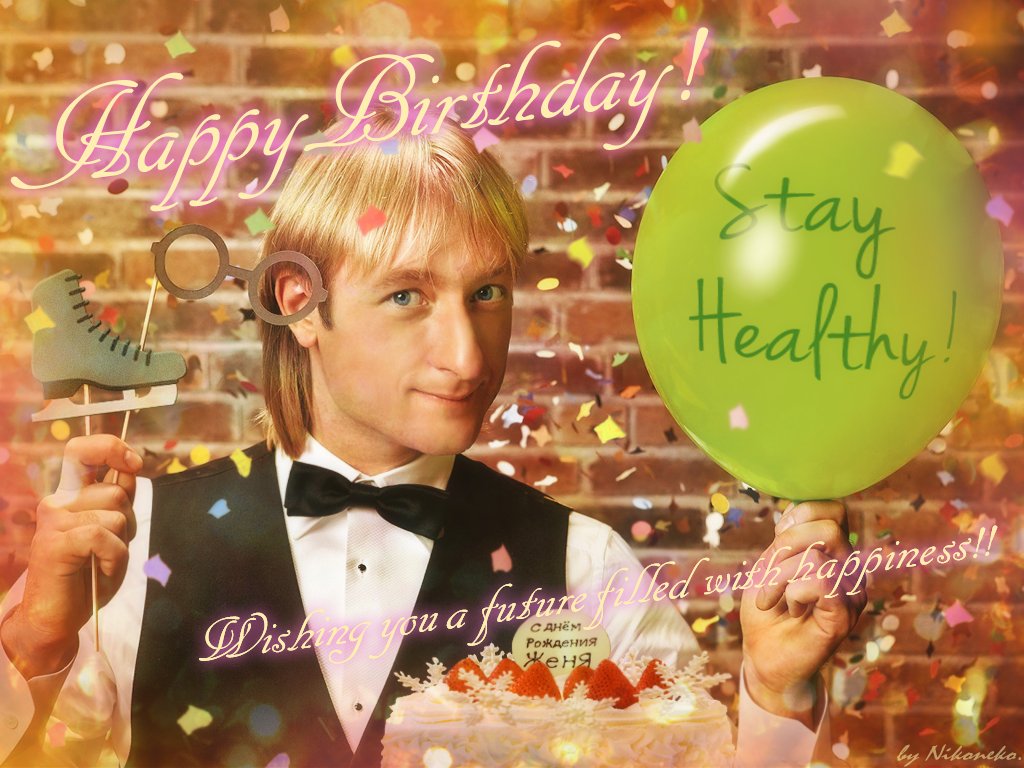 30.04.16